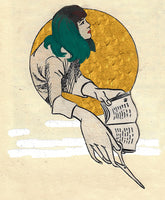 Oh hi!
Me and Norman is the collaborative efforts of Me, Steph Simpson and my imaginary friend, Norman Nanimal.
Norman sits at my side and helps me make creative decisions - I'm the sensible one and he's responsible for the chaos and a little silliness.  With Norman, I am fearless and able to stare a blank page straight in the eye and conquer it!
I am very focused on the process and place that I climb into when illustrating – a world that I am unable to leave once the image starts to take form, where I am not so easily distracted like usual. Illustration is about storytelling, and making images is a kind of game I play to amuse myself.
Above all else, I see myself as a storyteller and this extends into many spheres of my life. I lecture Illustration at a creative college in Cape Town and really enjoy working with Gen Z.

See my latest projects on Instagram:
@me_and_norman_gold for collages with gold leaf, poetry and nudes in the landscape
@me_and_norman_colour for gouache illustrations, fun with words and embroidery works